Keep track of scoreboards on Discord
with ease
Scoreboarder is a Discord bot for making scoreboards, leaderboards and much more! You can create any number of scoreboards and add however many people you want to them.
---
Current Servers

9567

Top.gg rating

4.5/5

Total scoreboards

18000+
Multiple Scoreboards
You can have as many scoreboards as you want. You can also have the same people on multiple different scoreboards if you want.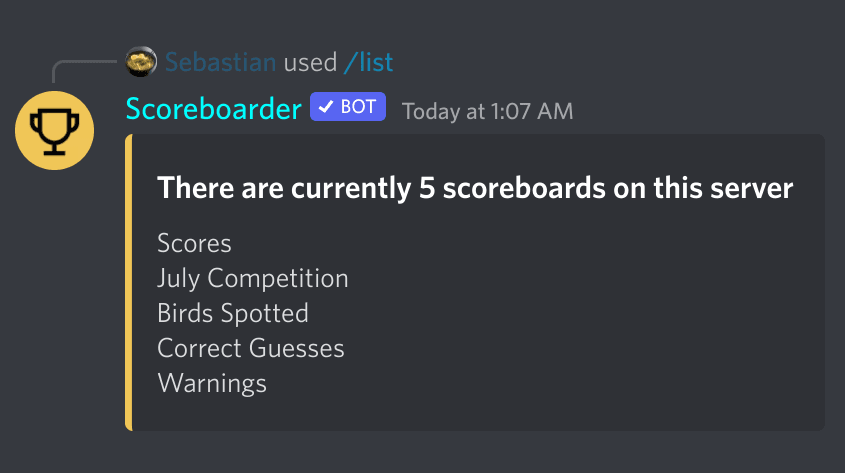 Use roles
By using roles, each individual with that role will be added to the scoreboard. This could be useful for keeping track of points for a game, competition or similiar. You can also add any word to your scoreboard if you want Team A and Team B on the scoreboard.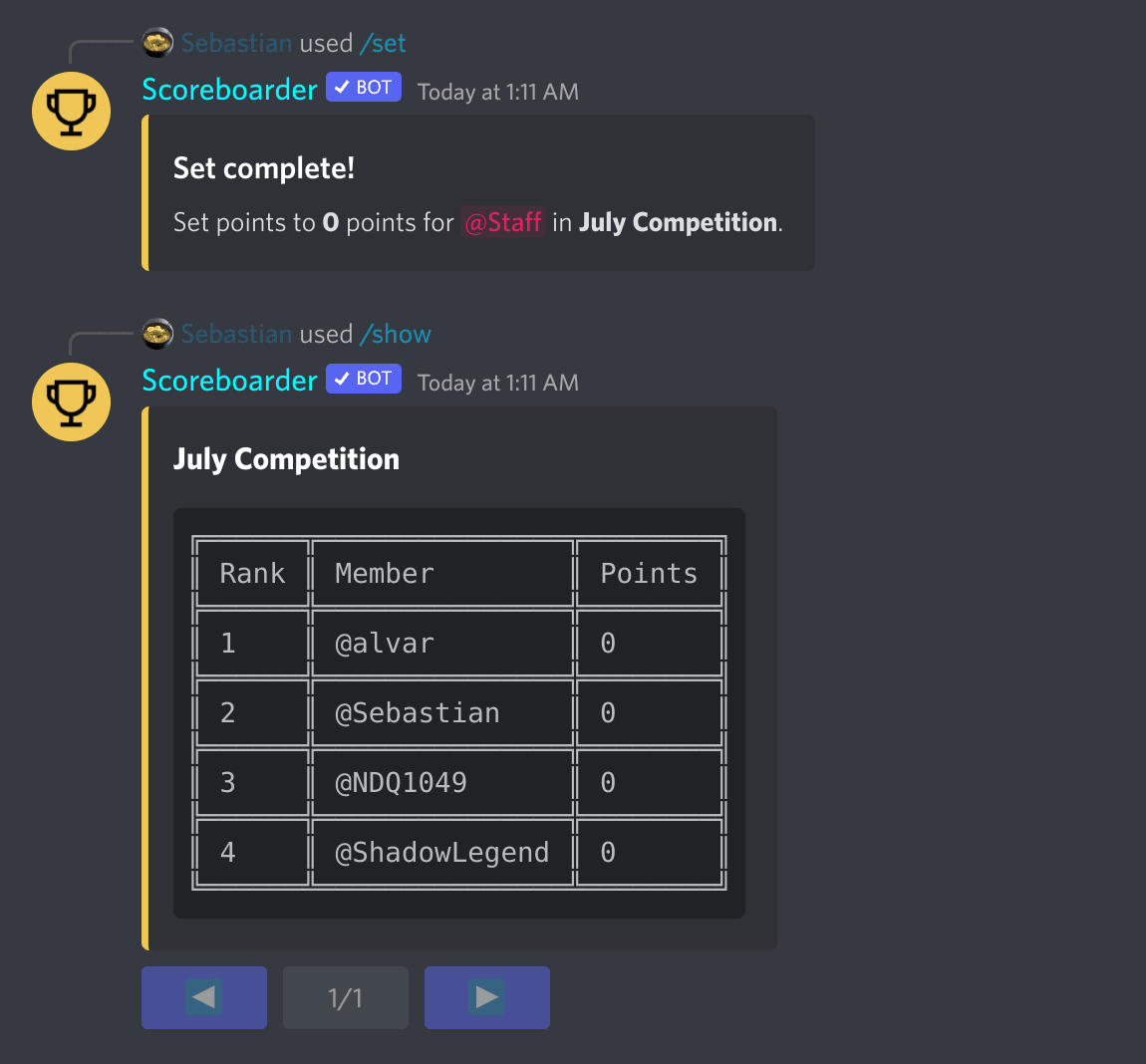 View all your scoreboards in Discord
All of your scoreboards will be accessible straight from the Discord chat. There are also several themes available to suit your needs.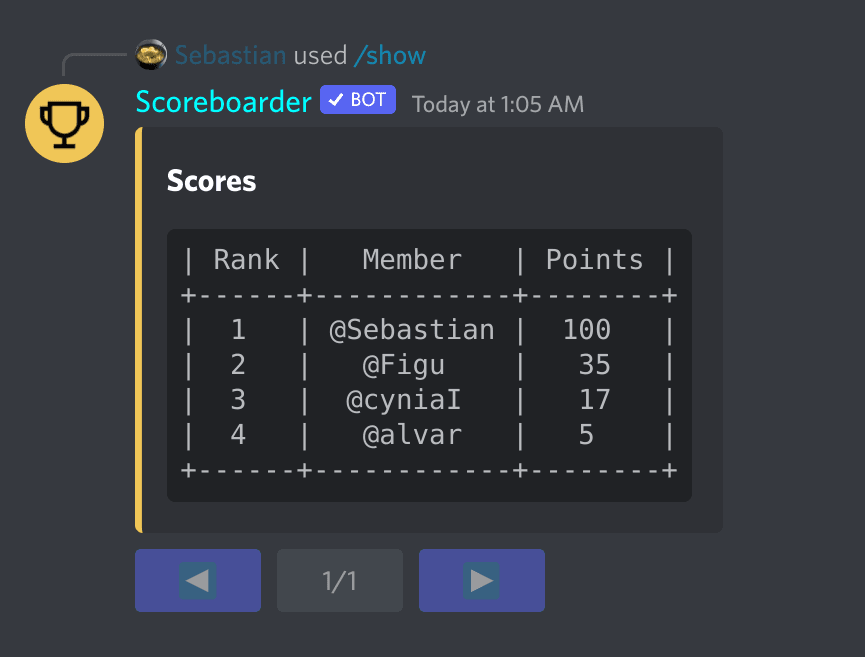 Supports slash commands
Scoreboarder works fully with slash commands. This includes autocomplete for scoreboard names and help filling out commands.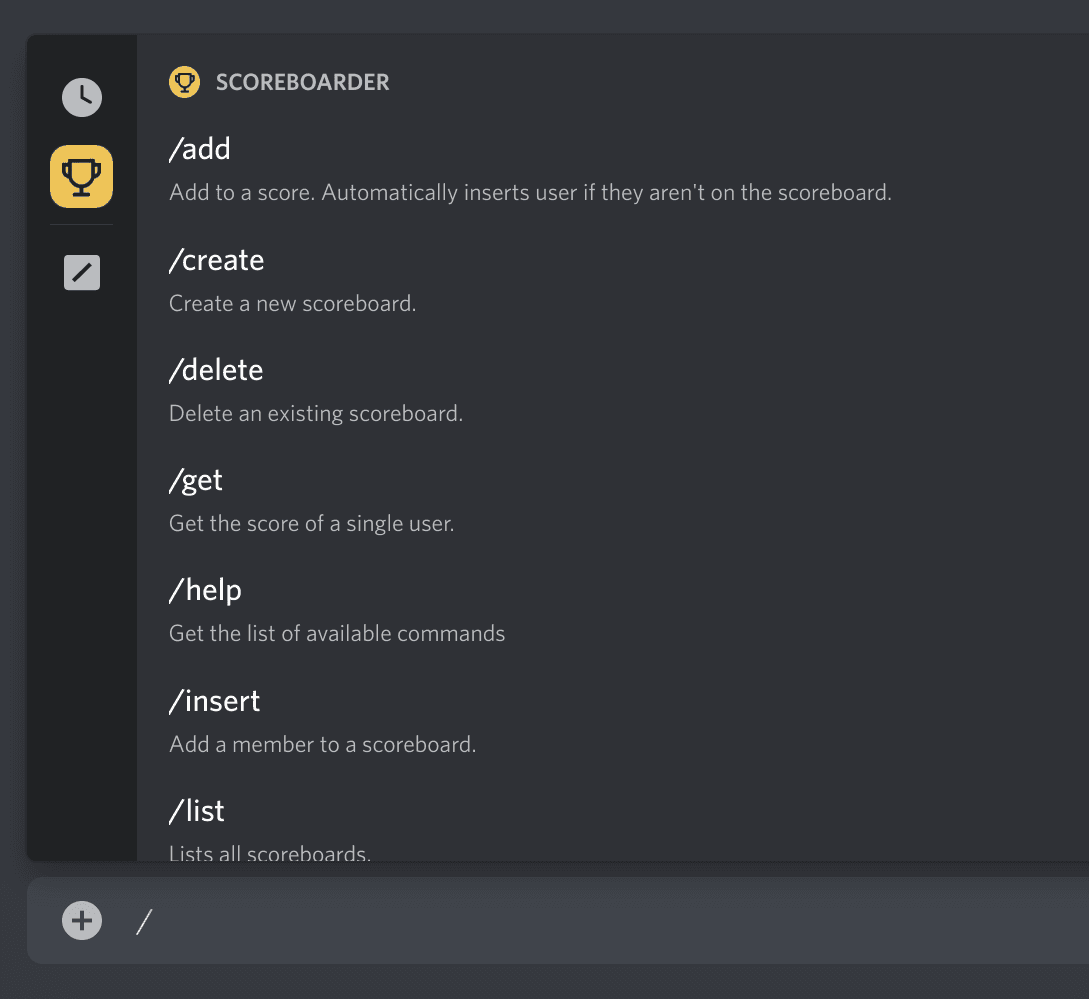 Don't take our word for it
Here's what our users say about Scoreborder
Great for keeping track of scores, for instance, how many times I have kicked my friends from a VC

OSKVAJ

I looked a lot and in the end I found what I was looking for thanks great job

.Fesor

I looked everywhere and almost lost hope that I wouldn't be able to find anything but then I found this. I swear this is so simple yet so little amount of bots have this. Thanks a lot

webbiess

It is just nice.

ϻя✧๔ยςк

Insane Bro Now I Can Make A Leaderboard Of How Many Kills You Got In A Game. Thanks

H u s s

I am loving the bot. The only question I have it how to I pull up page 2 of my list's? I figured it out. I am very much enjoying this bot! Thank you. Upgrading this to a 5!

Mr Hoosier

nice.

huggoYT

I really like this bot 👀

kioko yua
Upcoming Features
These are issues from GitHub with Feel free to create an issue if there is something you would want added.